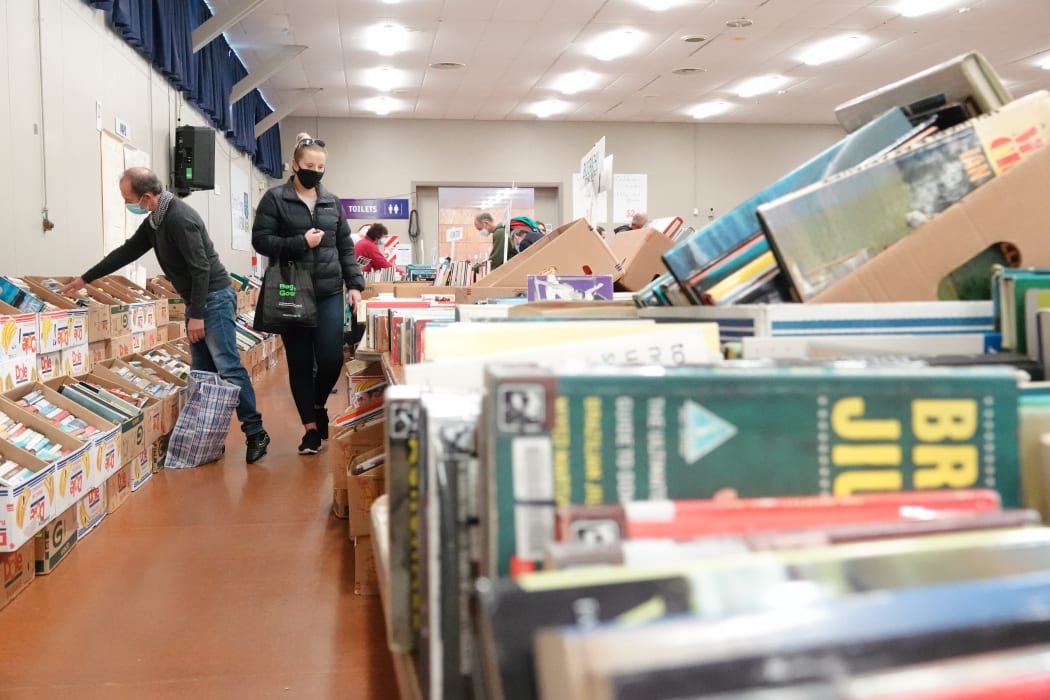 Book lovers flock to the Palmerston North flea market
The queue to enter a popular Palmerston North used book sale formed before dawn.
As rain poured down at 5am on Friday, David Johnson was one of the first to arrive eager to get a quick entry into the annual Red Cross book sale, which attracts thousands of people.
He wasn't even at the front of the queue, but said a soaked shirt was a small price to pay to get the first books on "a range of subjects – philosophy, math, science, psychology, anthropology , languages, paleontology, physics".
Others, like Anne Van Brunt, had something more specific in mind.
"I'm looking for art books with color plates. I hate art books with black and white plates. What good is a black and white plate?
"I want more specialized art books. I don't want a general history of Degas. I want what Degas did in a particular part of his life, so I hope to find that."
Van Brunt has been coming to sale for 30 years.
She said she had to wait in line because the quality art books would be quickly bought up.
Once the weather cleared, the queue grew longer.
People like Gordon Smith of Wellington came from around the lower part of the North Island.
"I go for non-fiction, mostly history…I just come for the day. Up at 6, leave at 7.
"It's a really good sale. It's huge. There's a great range of books."
At 10am the doors swung open and the most enthusiastic began their determined march, crossing the lino of Barber Hall to find the tables of their choice.
Most items cost a dollar or two.
Palmerston North lawyer Tony Thackery wasn't looking for anything specific, but was hoping to find a nice surprise.
Paul Foote of Palmerston North was keen to buy records, CDs and other music.
"There's a plan B. If there's no audio material, there's plenty of books. I can't lose."
Margaret Meehan was after one particular author.
"I'm looking for Neville Shute. I don't have a few. I don't have On the Beach and I don't have A Town like Alice. Everybody likes those.
"And I'm looking for historical novels."
Jill Spicer, an organizer of the sale, said more than 4,000 boxes of books were ready for a new home.
"Books are very cheap. For people who don't have a lot of money, it's fantastic.
"Books have another chance to circulate. People who have books and don't know what to do with them, and hate the thought of throwing them away, have a chance to give them to us."
It took about 250 volunteers to make the sale work. The money raised was used for Red Cross activities, including helping newly arrived refugees.
When the tills started ringing, the early risers left with their arms full of books and puzzles.
Jon Palmer had a bag of war books. Sharon Yanko had 10 puzzles to deal with.
The sale ends Monday.