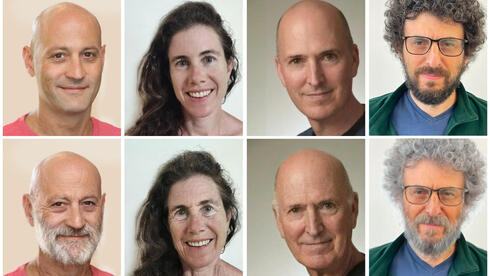 "Cognitive decline is the real pandemic of the modern age"
"Cognitive decline is the true pandemic of the modern age with over a billion people suffering from it in some way, and 40% of people over 60 are facing known issues. ", explained the co-founder and CEO of Cognishape, Oren Meir. "The effects on society, the economy and, more importantly, on the daily lives of so many people, are enormous."
According to Meir, thousands of users are already using Cognishape as an app or extension of a messaging service to help seniors with their cognitive abilities. The company is focused on clinical validation and is working to gain FDA approval as a digital therapy (DTx) to prevent cognitive decline and reduce the risk of dementia. He believes this will mark a leap forward in the treatment and prevention of cognitive decline, as no proven solution currently exists.
Cognishape has joined CTech as part of its Startup Boarding Pass series to share what it has in store for the future.
Company Name: Cognishape Ltd.
Sector: Health, AgeTech, SilverTech, Digital Health, Digital Therapeutics.
Product/Service Description:
The elderly are the fastest growing age group in the world. In many regions, the population aged 65 and over will double by 2050. At the same time, more than 40% of people over 60 face known cognitive problems, and one billion people in the world currently don't feel like their cognition is what it used to be.
Developing the first digital therapy for cognitive decline, Cognishape is an effective, AI-powered online cognitive training service for seniors.
Cognishape provides a cognitively stimulating service that keeps seniors lively, creative and socially engaged. Through refreshing daily interactions and science-backed brain training, users create and maintain a healthy routine and improve daily functions.
Cognishape's service is delivered through a conversational interface on popular messaging platforms and in the Cognishape app.
The company deploys NLP and AI algorithms to assess the cognitive state of the user and customize the training program according to the user's needs and abilities.
This allows Cognishape to democratize methodologies and techniques that have proven effective in maintaining and even improving day-to-day functioning, but are not currently available to the general population and are not scalable at all.
Serial Tech Entrepreneur, 23 years in various startups of all kinds and at different stages. Last six positions as R&D VP or CEO at Double Fusion, Peer39 (acquired by DG), Shaker (acquired by Playstudios; IPO-ed), Conduit, Conntigo and Resonai.
Daniela Aisenberg – Scientific Director:
Clinical psychologist with a doctorate. in the neuropsychology of healthy aging. Head of the Department of Clinical Psychology of Adulthood and Aging at Ruppin Academic Center. His research focuses on providing low-cost interventions to improve cognitive and emotional conditions in older adults.
A serial entrepreneur with a record of five startups he founded, three of which were acquired. Currently active president of two startups and startup mentor and lecturer at Tel Aviv University
Last investment cycle: $1 million
Last stage of investment: Plant
Date of last investment: March 2022
Total investment to date: $1 million, and has a $400,000 piggyback opportunity open to additional investors who wish to join on the same terms.
Investors (leaders and all): Vice President Terra
Current number of employees: 6
Open positions: Marketing Manager, CMO (Chief Marketing Officer)
After 23 years in leadership positions at various startups, I felt the need to do something much more impactful and meaningful for the world, and for many reasons I found myself drawn to the longevity industry. , in which I searched for the most burning issues. I decided to focus on cognitive decline and loneliness, where the need is imminent and where technology can play a transformative role in the solution. With my partners, Gal Nachum and Dr. Daniela Aisenberg, we shared the frustration of the commercial success of products that aim to solve this problem but don't really work. At the same time, we were aware of the fact that there are services that show real effectiveness in preserving and even improving cognitive function, but they are not accessible to the general public because they are provided to specific people, by therapists humans. , which also makes them expensive and not scalable. We were determined to close this gap by finding a way to democratize these proven techniques.
What is the product need?
Well, I guess the need goes without saying. Cognitive decline is the true pandemic of the modern age with over a billion people suffering from it in some way, and 40% of people over 60 are dealing with known issues. The effects on society, the economy and, most importantly – on the daily lives of so many people – are enormous.
Currently, for someone who cares about maintaining day-to-day functioning as they age, the only option available is to use existing ineffective products such as puzzle games, when effective methodologies exist but are not available.
How is the market changing?
The market currently offers products that do not work and are not scalable such as vitamins and supplements, products that are scalable but do not show real effectiveness such as crosswords, Sudoku or brain games, and services that show efficacy but are not scalable – various treatments from the fields of occupational therapy and neuropsychological rehabilitation, and no solution that is both scalable and effective. Cognishape is here to fill that empty space.
Ultimately, having a solution that delays cognitive decline and reduces the risk of dementia will not just change this specific market, but rather the entire economy, as more people will stay active and productive longer, and more people will be able to age in place. (at home, in connection with the community), fewer people will be forced to become caregivers, and the huge expenditure currently on therapy and treatment will be greatly reduced.
What is the size of the market for the product and who are its main customers?
In the United States alone, the market for Cognishape is estimated at $6.8 billion per year and the global TAM at $37.2 billion. Customers are healthy people over the age of 60 worldwide. Natural cognitive decline, which is an inevitable part of aging, affects us all, so anyone over 60 is our potential customer.
Does the product already exist? If not, at what stage is it and when is it expected to hit the market?
Cognishape is available as a bot on Facebook Messenger, text messages and even Telegram, but the best experience and efficiency is achieved by using our app. Thousands of US-based users are already using Cognishape with very promising results so far, and this is just the beginning.
Who are the main competitors in this sector and how big are they?
The main competitors are the publishers of "Brain Games". They are game-based products that provide cognitive training and have over 250 million users worldwide. The market leader is Lumosity with 80 million users. All operate B2C in a subscription-based model.
In the past, they claimed that the use of their products improved cognitive functioning, but this turned out to be false: the scientific community concluded that none of these games were effective in real life.
What is the added value that the founders bring to the company and the product?
We are experienced technology entrepreneurs with successful track records and leading researchers in the fields of psychology, neuropsychology, neurology, occupational therapy and gerontology.
Rounding out the founders picture, we have Yotam Rosenthal who is a top notch R&D leader with extensive experience in NLP, AI and chatbot development. He has played a major role in the development of chatbots for several companies, most recently – ServiceFriend, which was acquired by Facebook (Meta).
What will the money from the round be used for?
Over the next two years, we plan to reach 100,000 paying users and proven efficacy in clinical trials with leading US research institutes. The money will be used to achieve this.
In the
"Startup Boarding Pass"
section, CTech will cover the (relatively) small investments made in companies at the start of their existence – and the entrepreneurs and startups who have not yet had the opportunity to reveal their stories to the world. Please use the
linked form
and complete it as directed.
This form
is aimed at startups raising between $500,000 and $3 million from venture capital funds, angel investors, or official grants from Israeli and foreign institutions. If so, someone from CTech will contact you with follow-up questions.