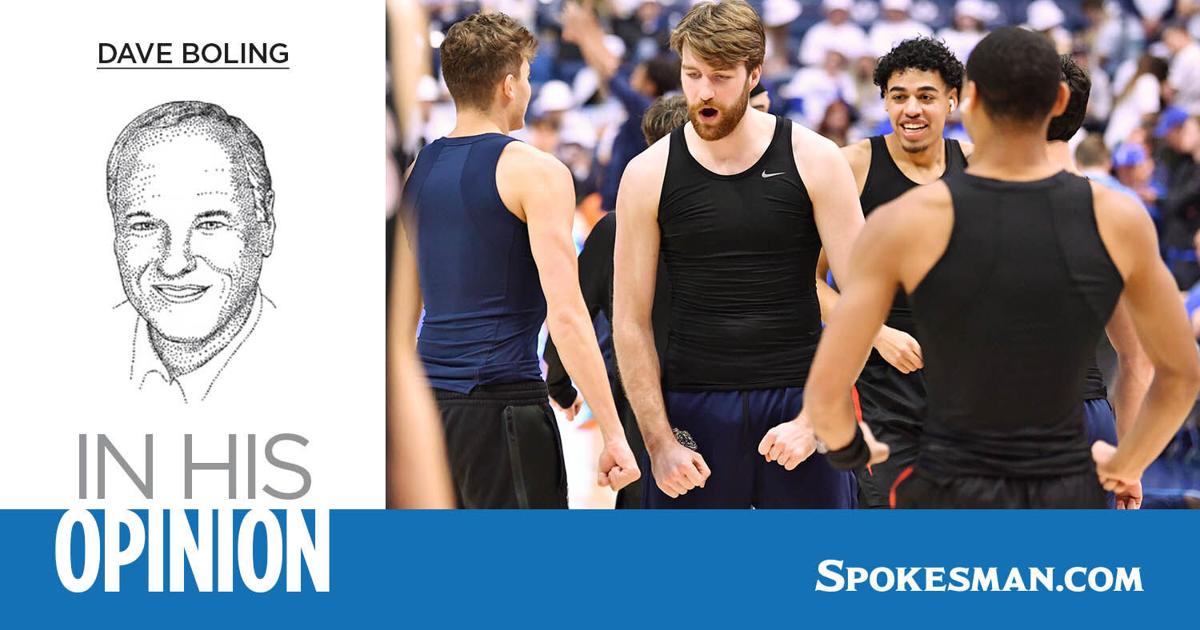 Dave Boling: March Madness Psychology Suggests Gonzaga Will Survive And Progress By Focusing On Himself | Gonzaga University
Today, a treatise on the psychology of madness.
March Madness, in particular.
It's a time of strange happenings, unexpected successes and surprise failures, all played out in front of national audiences.
Gonzaga's men's basketball team tasted a wide range of emotions and expectations during the NCAA Tournament.
They were the Darling Underdogs at the turn of the century when they racked up six upset wins while reaching Elite Eight and Sweet 16. Although they continued to qualify thereafter, their tournament trajectory flattened, leading to several seasons of disappointing early releases.
And, finally, they were part of the Top Dogs from 2017 to last season, as they attended the national championship game twice.
Once again, they head into the first weekend of the tournament as the No. 1 seed.
But unpredictable things happen. And when you're the first seed in a basketball tournament, every opponent you meet, from start to finish, can be considered an underdog.
Professor Gonzaga Nichole Barta, Ed.D, who teaches a course in exercise and sports psychology, helps decode the mysteries of competitive motivation in the minds of underdogs and favorites.
With his help, I came up with three suggestions for the Zags.
Suggestion #1: Don't look at the brackets. Opponents don't really matter, especially the first ones.
Or if you study parentheses, mentally write your opponent at each step like this: "Gonzaga". Not like it was an intra-squad scrimmage, but a competition every game against the standards you set for yourself. Be you. Do what you do.
"Elite teams are vulnerable to upsets in two ways," Barta said. "First, if they perceive competition as 'no challenge', then become complacent in their efforts. Second, if the fear of losing causes anxiety that impairs performance. Elite teams may feel more pressure to perform due to the expectation of winning and the embarrassment of losing.
The best approach is "that they play against themselves every game, and their success is compared to their own standards of good performance," Barta said.
Suggestion #2: Get in touch with your Zag ancestors.
As much as scouting early opponents can help with game plan details, perhaps watching highlights of Zag's early upsets, in 1999 and 2000, in particular, would inform contemporary Zags – none of whom were born. in the spring of 1999 when 10th seed GU shockingly tore No. 2 Stanford and No. 6 Florida on the way to a narrow Elite Eight loss to eventual champion Connecticut.
Every team they faced in this run was simply unprepared for the fighting spirit of the Zags.
These videos could show the current group what it took to get the program to this point, and could alert them to what they could do if they were tempted to rely on their rankings.
"A top team is likely to get rocked if they fall behind a bottom team," Barta said. "Anxiety causes muscles to tense, and tense muscles lead to different movement patterns that affect whether or not a shot will go through the hoop."
Tip #3: Find your flow.
Barta credited psychologist Mihaly Csikszentmihalyi with this concept of flow, a highly focused mental state conducive to productivity.
"Individuals are more likely to sink when the challenge is high and their abilities to meet challenges are high," Barta said. "In sports, flow means 'being in the zone' and is a precursor to peak performance. When your team isn't fluid, out of sync, and out of focus, nothing can go right.
When more talented teams think the opponent's challenge is weak, it's easy to underperform. The reverse is true for underdogs who believe in their talents. They flow.
Minus the psychology of it, the flow is what has always been great basketball. Law?
Flow is Dr. J rushing to the hoop, a Wes Unseld breakout pass, a Steph Curry pullover.
Flow is Gonzaga's transition game when at full speed. The flow is the intricate weaving of cutters and screeners that eventually clears an open man, like a backyard three-card Monte.
Flow is a spin from Drew Timme towards the hoop, a dunk from Chet Holmgren when he looks into the hoop. It's an Anton Watson rush in row 3 for a loose ball.
Flow is when there's no time to think about favourites, underdogs or top seeds – or anything other than the ball and instinctive movements.
That's really all this current group of Bulldogs need to consider: Flow.
If they remember, as they do when they're at their best, they'll eventually sink somewhere near the mouth of the Mississippi River on a Monday night in early April.
Columnist Dave Boling can be reached at [email protected]