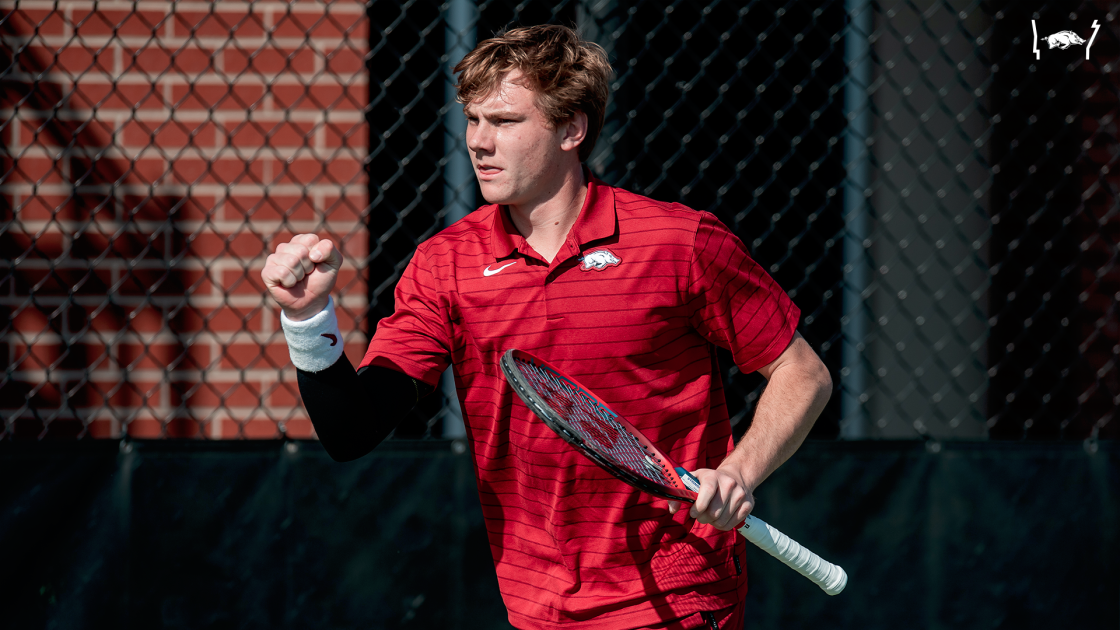 Men's tennis advances three to quarter-finals at ITA Fall Tour
WICHITA, Kansas – The Arkansas men's tennis team completed its first day of the ITA Fall Tour with all six Razorbacks advancing to the Round of 16 and three advancing to the quarterfinals tomorrow.
Returning junior Melvin Manuel won both of his games today as the No. 1 seed in the tournament. In the round of 16, Manuel beat Robinson of Oklahoma in straight sets 6-2, 6-0. He continued to dominate, beating Zach Greuber in straight sets, 6-2, 6-1 in the round of 16.
Manuel will face new addition to the Arkansas roster, Alan Sau in the quarterfinals. In his Razorback debut, Sau was ranked No. 5 and beat both opponents in straight sets on his way to the quarters. Benedkit Emesz also made his first Razorback appearance as the No. 2 ranked player. Emesz will face Wichita State's Alex Richards tomorrow in the quarterfinals after winning both of his matches today in straight sets.
The Razorbacks picked up nine total wins on the day, with each Razorback winning their Round of 16. Junior Adrien Burdet won the first set tiebreaker 7-6 (11-9) and won the second set, 6-1 for his victory. Jake Sweeney split sets in his opener, winning the third set tiebreaker 1-0 (10-6). Junior Foster Rogers completed the Razorbacks' first-round victories with a straight-sets, 6-2, 6-2 victory.
Arkansas continues to play on the ITA Fall Tour tomorrow with quarterfinal matches beginning in the morning. For all information regarding the tournament, visit the tournament website to find links to draws and results.
For the latest on all things Arkansas men's tennis, follow the Hogs on social media by liking us on Facebook (Arkansas Razorback Men's Tennis) and following us on Twitter and Instagram (@RazorbackMTEN).