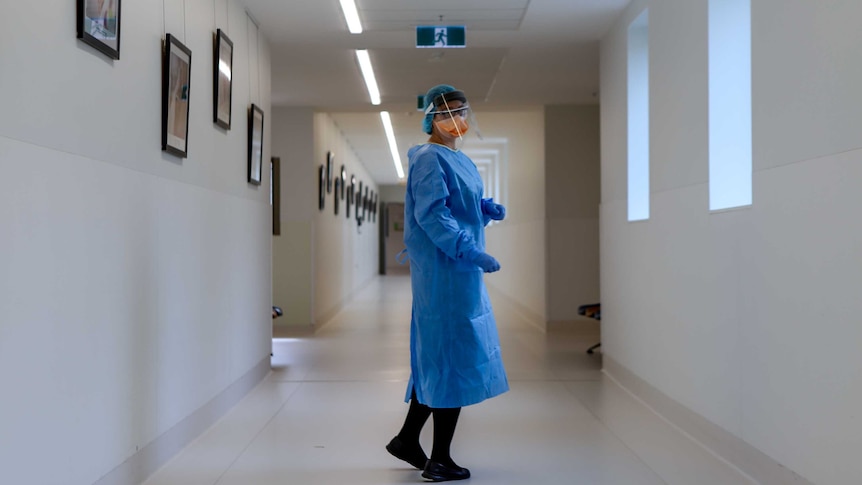 The COVID-19 Delta outbreak in Australia is pushing healthcare workers to their limits. These are their stories
April * is one of the thousands.
A "hidden face of the pandemic," she calls it.
One of a small army working round the clock across Australia to ensure the cogs of COVID-19 health keep rolling.
April is a hospital pathologist, one of the healthcare workers who ensure COVID-19 tests are collected and evaluated – a vital role in Australia's continued protection against COVID-19.
Yet, unlike the country's contact tracers, who are rightly thanked for their work, or hospital staff on the front lines, pathologists are among the many largely unrecognized health professionals.
Due to the domino effect of COVID-19, healthcare workers in all sectors are under great pressure.
According to April, they are "exhausted, overworked, understaffed and eager to get out on the other side of the pandemic."
"We have had a 300 percent increase in our workload," she said. "A pathologist said he started the day with 9,000 tests to do that day.
"The pathology has long been forgotten. [It's] the backstage service of a hospital. We often feel under-recognized and underestimated.
The CBA launched an appeal last week asking healthcare workers across the country to tell us about their experiences with the system.
April was among hundreds of people across the country who made contact.
Due to their contracts, most healthcare workers are unable to speak to the media. They spoke to the ABC on condition that their identity was not revealed.
On Monday, the ABC will tell the stories of nurses and other hospital workers on the front lines, treating COVID patients.
But, as April says, healthcare workers in all industries are feeling the pinch.
Here's what some had to say:
"We are working overtime to treat COVID patients and close contacts with cancer. We wear full PPE and ask them to get tested for COVID every three days. The staff are all exhausted and if anyone is sick, we have to continue to be understaffed. We have never been so busy. " Irene *, oncologist, Sydney
"I am concerned about the effects of these progressive blockages on the health and well-being of children and their families. When I speak to healthcare professionals in a range of specialties, many have expressed profound fatigue and symptoms. very pronounced Burnout. " Madison *, pediatric nurse, Victoria
"As a health worker it is exhausting coming up every day to motivate and rally my patients when you yourself are so exhausted. I live on my own and have constant underlying anxiety that I 'Will inadvertently arrive at work one day without realizing that I have contracted COVID in the community, so I limit what I do outside of work hours beyond the restrictions. " Rebecca *, rehabilitation physiotherapist, Victoria
"I have nervously watched the other states. I'm sure this won't last, and despite being fully vaccinated, I still look forward to an outbreak of WA and the challenges that will come with it." Phillip *, pulmonologist, Perth
"Working as a psychologist during the pandemic has been extremely difficult. It puts pressure on my worst tendencies to 'get through' and take care of others before me. The anxiety associated with being more likely to contract COVID-19 has been significant; has been deeper is the terror of unknowingly passing it on to a vulnerable client [or] take it home. " Emma *, psychologist, Melbourne
The "forgotten" sectors
For Sydney dentist Anna *, the Sydney lockdown has confused what she can and cannot do.
In New South Wales, 'non-urgent' dental treatment should be postponed if it is 'clinically appropriate to do so'. In Victoria, only patients "with urgent needs or urgent care" can be seen.
Anna said it was difficult to determine what "non-urgent" meant.
"I spoke to colleagues in western Sydney who told me that the police show up at dental offices and prevent them from doing things like cleaning," she said.
"But it's oral health, it's not a cosmetics industry, we are an essential medical service. If we have people with gingivitis, for example, what do we do?"
Anna said she and her colleagues were "terrified" by the threat of infection, but felt compelled to continue their work.
"It's a high-aerosol job," she said.
"We treat everyone as we would if they were HIV positive and take all possible precautions.
"But really, I'm more concerned if the authorities blame me for doing my job or get in trouble, or get sued by a patient if he is infected."
Peta, a radiation therapist in Sydney, said it was "difficult" when resources were cut to deal with COVID-19.
"Everyone is aware of the pressure that a day off puts on the rest of the team," she said.
"And people don't want to take time off because of the impact it has on everyone.
"Then colleagues have to take time off due to burnout."
She said staff were treating everyone as if it could be a case of COVID – a common theme among health workers who spoke to ABC – and that they needed to change PPE several times a day.
Back in the hospital system, Terry *, an operating theater nurse at a large Sydney hospital, said the threat of COVID – which meant every patient had to be treated as COVID-positive or on the 'COVID path' – caused significant delays.
"The one-hour surgeries are being extended to three hours due to COVID protocols," he said. "So many staff have been redeployed to COVID [patients] that we are so small. But because of these protocols, we need 10 employees whereas we previously needed six.
"Everyone has a really hard time. It's hard to start everyday knowing it's always the same."
"The public does not care"
The most common theme of the CBA appeal was, without a doubt, the impact of the pandemic on the mental health of healthcare workers and the patients they worked with.
Phillip *, a clinical psychologist working with healthcare workers, said the worst for many was "the belief that the public don't care enough about them to follow the rules."
"This belief is a great predictor of poor mental health," he said. "We have heard horror stories of assaults, intimidation, brutal schedules and rare PPE. The toll has been enormous and continues to grow."
Kathy *, counselor and psychologist, said she had seen "burnout, compassion fatigue and indirect trauma".
"'It's like fighting a fire. We can't lay the pipe and fires are always burning," she said.
"It's survival mode. When is it our turn to breathe? And when does it stop? "
* all the names of the caregivers have been changed
Loading form …