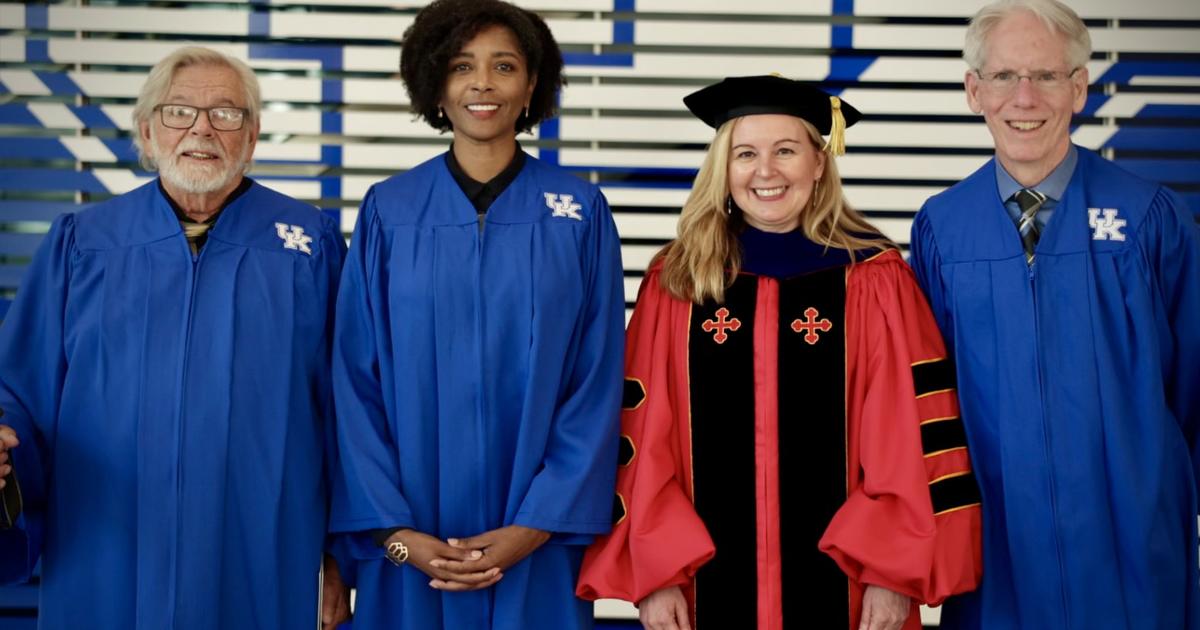 UK College of Arts and Sciences inducts 4 into Hall of Fame
LEXINGTON, Kentucky (October 6, 2022) — Three alumni and one faculty member were inducted into the University of Kentucky College of Arts and Sciences Hall of Fame at a ceremony held on campus on Friday, September 30.
The hall of fame recognizes alumni and teachers of the arts and sciences of the United Kingdom who have made a significant contribution to the university, the Commonwealth and the nation in their respective fields.
"We are honored to recognize and celebrate our stellar class of inductees; La Tasha Buckner, Dennis McCarty, Cythnia 'Didi' Rapp and Dwight Billings, who are among our most distinguished alumni and faculty," said Ana Franco-Watkins, Dean of the College of Arts and Sciences. "The life stories of our laureates reflect the power and determination of their artistic and scientific upbringing and their ability to positively impact their professions, their communities, the Commonwealth and the nation."
Past inductees
The Tasha Buckner— psychology, Licence (1997)
La Tasha Buckner, a native of Glasgow, Kentucky, is Chief of Staff and Senior Counsel to Kentucky Governor Andy Beshear. She graduated from the UK with a bachelor's degree in psychology in 1997; she also participated in the Honors Program and was a recipient of the William C. Parker Fellowship for four years. She then obtained her JD at the UK J. David Rosenberg College of Law in 2000, where she was a Bert T. Combs Fellow.
Buckner began her legal career as an Assistant Commonwealth Solicitor, prosecuting cases ranging from white-collar crime to murder. She served as Deputy Executive Director of the Public Protection Cabinet's Office of Legal Services, practicing in areas as diverse as liquor control, horse racing and financial institutions. From 2016 to 2019, she led the civil division of Beshear, then Attorney General. She has argued some of the most notable constitutional cases in recent Kentucky history regarding pension reform and state university funding cuts.
Buckner is the first black American and the first woman to serve as chief of staff to the governor of Kentucky, the first black woman to serve as general counsel to the governor, and the first person to hold both positions simultaneously. As general counsel, she argued before the Kentucky Supreme Court, winning a unanimous victory upholding Beshear's authority to issue executive orders during the unprecedented COVID-19 pandemic.
As chief of staff, Buckner played a vital role in key accomplishments, including the largest investment in Kentucky history: Ford Motor Co. and SK Innovation's $5.8 billion plan to build electric vehicle battery factories; restoring the franchise to 170,000 Kentuckians; and remove the statue of Jefferson Davis from the Capitol Rotunda. His hobbies include hiking, travelling, attending concerts and supporting the arts.
Dennis McCarty — psychology, bachelor's (1971); psychology, masters (1976); psychology, doctorate, (1978)
Dennis McCarty, Ph.D., professor emeritus at Oregon Health and Science University-Portland State University School of Public Health, was born in Chicago as the oldest of six children. His family moved from Illinois to Wisconsin and settled in Louisville, Kentucky. He received a bachelor's degree in psychology from the University of Kentucky in 1971 and went on to complete a master's (1976) and doctorate (1978) in social psychology; he met his wife, Sarah, when she was a classmate in the psychology graduate program. Her postgraduate training in alcohol studies was at the University of North Carolina Medical School. He has studied the prevention and treatment of substance use disorders throughout his career.
In Portland, McCarty assesses the organization, funding and quality of services for the prevention and treatment of alcohol and drug disorders. He was principal investigator for the Western States Node of the National Drug Abuse Treatment Clinical Trials Network (2002-2018) and for the evaluation of the Network for the Improvement of Addiction Treatment (NIATx) and a series of NIATx extensions (2002 – 2018). He also led an evaluation of the impacts of Oregon managed care organizations on the prevention and treatment of alcohol and drug use disorders (2014-2019).
McCarty was a member of the Oregon Alcohol and Drug Policy Commission and the Lines for Life's Oregon Coalition for Responsible Use of Medication initiative. He was Academic Director of the Summer Institute on Alcohol, Drugs and Addiction at the University of Amsterdam – a two-week course which examined Dutch policy perspectives on substance use disorders of drugs. As Director of Substance Abuse Services for the Massachusetts Department of Public Health (1989-1995), he worked with Massachusetts Medicaid to expand access to outpatient and drug rehabilitation services. His honors include a Lifetime Achievement Award from the Alcohol, Tobacco, and Other Drugs Section of the American Public Health Association (2012) and membership in the College of Problems on Drug Dependence (2019) and the American Psychological Association ( 2007). In his spare time, he and his wife enjoy watching birds and wildlife.
Cynthia "Didi" Rapp— Russian studiesbaccalaureate (1975); geographymaster's degree (1976)
Cynthia "Didi" Rapp spent four decades as a civil servant, almost all of them at the Central Intelligence Agency. Raised in the northern Virginia suburb of Washington, D.C., she came to Lexington in part for its beauty and its horses, and stayed there to earn an undergraduate degree in Russian studies in 1975 and a master's degree in political geography in 1978. Rapp then joined the CIA as a geographic analyst, but for much of her analytical career covered a range of intelligence issues in the former Soviet Union, the Middle East and Europe. She and her husband – also a career analyst at the CIA – served in several overseas missions.
Entering the directorate, Rapp oversaw the production and content of the President's Daily Brief, the intelligence community's first analytical product. She then returned to analysis to take responsibility for the CIA's analytical program in the Middle East. After this assignment, Rapp climbed a series of leadership positions of increasing responsibility. She served as Deputy Director of Congressional Affairs and then First Deputy Deputy Director of National Intelligence for Intelligence Integration. Later, she returned to the CIA as director of public affairs, then as a senior analytical representative in a European capital. Back in Washington, she worked as Deputy Director of Operations for the CIA and later as Director of Analytics, leading the CIA's global analytical program. She ended her career as chief of staff to the director of the CIA.
Rapp received two Presidential Rank Awards and the Director's Award for Distinguished Service, as well as the Distinguished Career Intelligence and National Intelligence Exceptional Achievement medals.
She credits her time in the UK, particularly her experience with a difficult history teacher, for instilling in her the drive for excellence and perseverance in overcoming challenges that helped her succeed as an analyst, senior executive and leader at the CIA.
Inducted into the faculty
Dwight B. Billings, Department of Sociology
Dwight Billings, Ph.D., professor emeritus of sociology, was a pioneer in studies of Appalachia and the examination of inequalities in the region. He was born in Logan, West Virginia, in 1948 and moved to Beckley when he was 10 years old. In Logan, he attended an elementary school separated not only by race but by profession, which inspired him to continue his research on race and class inequalities. . Both Logan and Beckley were sites of fatal coal mining accidents as well as intense labor disputes, and throughout his career he was interested in and supported labor struggles.
He joined the British faculty in 1975 and received his doctorate in sociology from the University of North Carolina in 1976. As an assistant professor, he helped establish the UK Appalachian Center and Appalachian Studies Program. He was the center's first Director of Research, the first Director of Appalachian Studies, and Associate Director and Acting Director. After teaching in the UK for 43 years, he won the UK Chancellor's Outstanding Teaching Award in 2000 (for full professors), the 2003 Emeritus Professor Award from the College of Arts and Sciences and the Professor's Award British research 1993-94.
Outside the UK, he has served as President of the Appalachian Studies Association, Vice President of the Southern Sociological Society and Editor of the Journal of Appalachian Studies. He and his former British sociology colleague, Kathleen Blee, won the Weatherford Prize for best non-fiction book about Appalachia for "The Road to Poverty: The Making of Wealth and Hardship in an American Region." To recognize his mentorship, teaching, and service, the Department of Sociology established a graduate scholarship in his honor called the Billings-Hougland Fellowship (Sociology Legacy Fund).
This year's recipients join more than 60 alumni and 20 faculty members who have already been inducted. More information about the inductees as well as videos and photos from the event can be found at www.as.uky.edu/halloffame.